Do you have travel fever?
With all the talk of France opening up, as it will soon to vaccinated or virus-free visitors from select countries, you may be thinking about what your next trip will be like. Will you head to the beaches, to Paris, to the Alps, or one of the wine regions?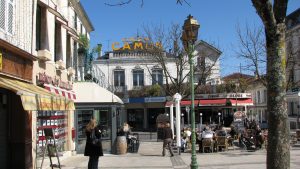 There are so many choices, so I've compiled over 25 regional and topical posts that will present some new ideas for you as you dream about your trip. Some are regional ideas, some are road trip itineraries. Then there are creative ideas like boating or biking where you'll get plenty of tips on where to start.
Just click on the post title and you'll be on your way!
Visit the West of France
There is a lot to see in the west of France, whether the far reaches of Brittany of the southwest, where you can sample Bordeaux wines or head down to the Spanish border.
Adventures on the France-Spain Border
La Rochelle: Medieval Port on the Atlantic
St. Malo: A Treasure on the North Coast
Visit the East of France
You may be a nature bug with a long-standing desire to see the Alps, the Jura mountain area, or the gorgeous town of Annecy with its pristine lake and medieval center crisscrossed by canals.
Le Jura: A Natural Wonder in the East
Discovering Lyon
A Twist on Paris
Of course, you'll want to visit Paris, but maybe you've been a few times and want to see the less-touristy side. Or, what if you just have 3 days? I have you covered, there's a post on that too.
10 Day Trips Under 2 Hours from Paris
10 Unexpected Places to Visit in Paris
A Different Type of Trip
Now here are some creative ideas that'll make your trip to France not only unusual but unforgettable.
Biking in France: A Change of Pace
Studying French in France 
Visit the North
There's much to see in the northern part of France amidst the rolling hills of Normandy and Brittany. Here are a few towns and tours you'll love.
 Visit Provence
Isn't Provence everyone's favorite? And for good reason. The climate is nearly perfect, the southern French charm of towns and villages will keep you taking photos.
A Tour Through the Luberon: Provence, France
Coastal Secrets # 4: Juan-les-Pins and Antibes
These ideas should get you started! Happy trip planning!
And if you'd like to brush up on your travel French, check out one of these 2 options:
French Greetings and Polite Expressions 
This free mini-course will get you off and running with greetings and polite expressions in French. You may not be fluent or conversational, but you'll master the polite words and be a friendly, courteous traveler.
Real French for Travelers Complete Online Course
A complete travel French course that will enable you to speak and understand during your trip to France. Lots of travel tips and travel-related vocabulary are included. Go from zero to being able to speak in the past tense in as little as 8 weeks.