Top 20 French Towns (not including Paris) A to Z
Certain places in France come to mind when you think of worthwhile places to visit. I've compiled a list of 20 towns across France that will give you plenty of ideas for future travel. Most of these have more in-depth posts, which I'll link to (underlined names.) In the meantime, this summary will give you the following details: size (village or city), location (what region in France), the high points of each, and nearby destinations you can visit, to give you even more ideas for your trip. Don't forget my road trip book, Hit the Road in France: 9 Road Trip Itineraries Across France, for still more ideas.
To Note: Soon I'll be visiting France, particularly the Alsace wine region and Lyon. I have posts on these, but during my visit, I'll post on Facebook and Instagram as I go. I hope you'll join me there! (addresses below)
20 wonderful (alphabetized!) destinations all over France!
Aix-en-Provence
This was one of the first towns I visited in Provence and left a mandate to return many times. A mid-size university town, it embodies pure Provence. It boasts 1000 fountains and has a lovely market. Nearby are beaches of the Mediterranean and the Luberon region of hilltop villages. (Pictured above.)
Another Provence magnet for me, Avignon is somewhat smaller and full of medieval charm, including a wall around the perimeter. Nearby, other wonderful towns- Arles, La Camargue, and of course, the perched villages of the Luberon.
A larger city in France's southwest corner, Bordeaux is France's top wine destination. The downtown is fun and walkable, tastings abound, but there's much more to see there. Nearby you can visit St. Emilion to the east or Arcachon to the west. Find a road trip of nearby villages in Hit the Road.
Briançon (The highest town in France  )
This small walled town (pop. about 11,000) on the eastern border between France and Italy is the highest town (4300 ft.) in all of France. Mountains draw people in summer for hiking and in winter for skiing. Anytime, you have steep, picturesque streets, good Alpine cuisine, and small-town charm. Nearby are several national parks and Turin, Italy.
Each of these towns on the Mediterranean coast has its own character, but they're close together and give a great balance: Marseille, is a large city with cool neighborhoods, a busy port, and fun downtown. Cassis is smaller and colorful with lovely waterside dining.
Chamonix
Perfect for your high-altitude adventure, this town in the French Alps is best known for Europe's tallest mountain, Le Mont Blanc. As you can imagine, the area is popular (amazing, in fact) in summer for hiking or hang gliding (among other sports) and in winter for skiing.
Colmar
This mid-sized town in Alsace (and one of my summer destinations) is well-known for picture-book beauty . . . flowers and canals everywhere, half-timbered buildings, Alsatian delicacies. It's on the eastern border next to Germany. Nearby is the entire Alsatian wine route, including colorful villages leading all the way to Strasbourg.
These two towns in Burgundy are on another wine route (Burgundy, of course!) The region lies to the southeast of Paris. These medieval towns are known for wine and mustard but have quaint, photogenic old centers. Dijon is quite a bit larger in population than Beaune. Both are worth a visit and are near each other.
I've often said it, Dinan is my favorite place (so far) in Brittany. This walled medieval town in northwestern France is a must-see destination with buildings going back to the 13th century. Walk on the ramparts, hike on the hillsides, and through the steep cobbled streets. A lively downtown and market will draw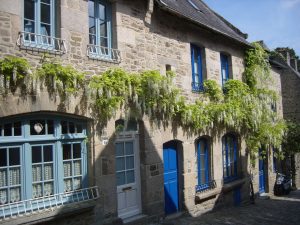 and entertain you. Nearby, le Mont St. Michel and Dinard, a coastal resort town.
Fontainebleau
This mid-size upscale town is worth a visit for several reasons. It's under an hour's train ride south of Paris (in case you want to get out of the city but not go too far.) The stunning Chateau of Fontainebleau is a draw, as are the pedestrian streets and nearby forest where you can hike and picnic. Smaller cute towns of Barbizon and Milly-la-Foret can complete your day trip (or two days.)
A beautiful and lively town in the center of France's western coast, La Rochelle is full of history and fun. Like many French towns, it goes back to the Roman period and was important many times in history. Nowadays, tourism rules. The sea is a big theme, and you'll find seafood restaurants lining the historic harbor. Nearby Ile de Re is a fun change, a small island great for biking and beaching.
This large city in the southeast, though a major center for industry and higher education, draws visitors to its medieval center and lovely river (two, actually.) Vestiges of its Roman past include ancient amphitheaters. Lyon is famous for gastronomy, the 2nd food-lover's destination after Paris.
As a favorite Provence destination down on the southeastern Mediterranean coast, Nice has plenty to see, from beaches and a boardwalk to a lively downtown. It's a mid-size town that's walkable but also has If that's not enough, there's a lot to see all around for day trips (See my post on 20 Day Trips from Nice.) Easily accessible by airport or train, it receives 4 million tourists a year (and for good reason!) there are 2 posts on Nice.
Reims
This city to the northeast of Paris lies on the edge of the Champagne region (and can be combined with a tour to that area!) It is a mid-sized city and boasts the historically significant and impressive Cathedral of Reims. Many French kings back to the 5th century were coronated here. Stunning examples of historic architecture, ancient and more recent, abound throughout the city.
Rouen is a mid-sized historic city, the capital of Normandy though you can get there quickly by car or train from Paris. It sits alongside the Seine and has a number of historic buildings, some dedicated to Joan of Arc who was executed here in the 15th century. Cobbled streets, small canals, and a charming old town await you here. It has the highest number of historically classified buildings in France. Stop for a visit on your way to Etretat or le Mont Saint Michel.
In Brittany, the smaller town of St. Malo is a must-see, with walls surrounding the town, a view on the water, and historical and cultural sites. Picture the northwest coast of the Brittany peninsula that juts out into the English Channel. This should be included in a trip to Normandy either before or after you visit Le Mont Saint Michel.
Strasbourg is larger than Colmar but has a similar charm. In addition, Strasbourg is an important center of European government, housing the European Parliament, and other institutions. Despite its size, you'll love strolling through La Petite France, the picturesque historic district, with canals, flowers, and half-timbered houses. Nearby: Obernai, the Alsace wine route, and Konigsberg Castle.
Another larger city in France's southwest, Toulouse is a university town but doesn't lack memorable sites, canals, and cobbled streets. You have many of these in Europe, but you won't get tired of it. Toulouse is on the way to the France-Spain border and isn't far from Montpellier and Carcassonne, either.
Tours is called the Gateway to the Loire Valley since it sits right in the center. From there, after visiting Tours itself, it isn't far from the famed Renaissance castles of the Valley, such as Chenonceau and le Chambord to the east and Villandry to the west. (For a full description and tons of ideas and itineraries, check my book, A French Garden: The Loire Valley.) Tours is fun and interesting in its own right as well.
Last but not least in our alphabetical listing, Versailles. Many tourists flock to the castle, but I always maintain that you can spend an entire day or more in the town of Versailles, enjoying its markets and galleries as well as the upscale feel of the town itself. Plan a picnic to enjoy on the castle grounds (which are extensive and beautiful.)
I hope you enjoyed this 20 Best list for your France travel inspiration. Most of the towns listed above have their own post on Oliver's France, which I've linked, so you can learn more about anything that interests you. As you can see, there are nearly limitless things you can do in every corner of France.
If you want to visit on Facebook or Instagram either during my trip or any other time, the links are here:
https://www.facebook.com/OliversFrance/
https://www.instagram.com/oliversfrance/
Why not learn REAL French for your trip, instead of fake phrasebook French? Learn French you can build on and enjoy learning! It's easier than you think! Learn More.